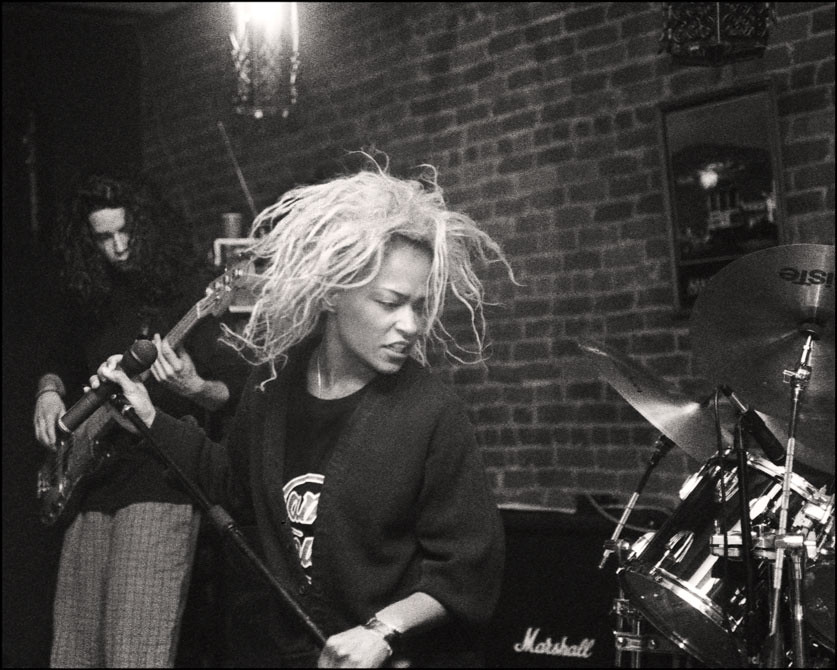 Zola Mennenöh – I disappeared under the sea
Kelly Lee Owens feat Jenny Hval – Anix.
Jenny Hval – Female Vampire
Le billet d'humeur de Caim (fr)
The Who – Behind blue eyes
Thiaba Diop – Chronique : Tina Bell (fr)
Bam Bam – Ground Zero (about Tina Bell)
Shopping – Don't tell me why (about Rachel Aggs)
Lunachicks – Less teeth more tits
Ausgang – Chuck Berry (about Casey) (fr)
Ezinne – YhNo
Maandy – like a boss
Nqobilé – Look at Her
Sarz ft Dr. Alban – Hello Africa Riddim
Cuppy ft Skuki – Werk
Une émission co-réalisée avec Thiaba Diop.
Tina Bell & blue eyes
J'adore cette chanson des Who,
« Behind blue eyes » qui est sorti en 1971,
quatre ans avant la naissance de Kurt Donald Cobain.
« Derrière des yeux bleus.
Personne ne sait ce que c'est,
être détesté, être condamné,
pour ne dire que des mensonges. »
Personne n'oublie les longs cheveux dorés de Kurt Cobain,
son visage doux aux traits marqués.
Personne n'oublie ses mots.
Personne n'oublie ses yeux bleus.
Combien de yeux bleus a t'on vu?
Entendu?
« Personne ne sait ce que c'est
d'être le mauvais homme,
être l'homme triste.
Derrière des yeux bleus. »
Mais qui se souvient des yeux noirs de Tina Bell?
De ses cheveux noirs?
De sa peau noire?
Tina Bell
Hier j'ignorais encore qui c'était.
Je n'ai même pas su la trouver sur wikipedia.
Tina Bell est la source d'inspiration de la plupart des groupes grunges.
Avec son groupe Bam Bam en 1983,
elle a joué dans les meilleurs clubs underground de Seattle,
comme ColourBox, Crocodile Lounge, Gorilla Gardens.
Dans la foule :
Nirvana,
Soundgarden,
Alice in Chains,
Pearl Jam
– le Big Four of Seattle comme ils disent.
Leaders aux yeux bleus.
La voix sensuelle et hurlante de Tina Bell,
aux paroles qui s'avèrent véridiques.
Exister dans un monde qui n'est pas conçu pour vous.
Exister en tant que femme noire dans un monde blanc, une industrie musicale blanche.
Tina Bell c'est une figure emblématique, précurseuse
– Oubliée.
J'adore ce livre de Toni Morrisson,
« The Bluest Eye » qui est sorti en 1970.
Je pense à Pecola ,
qui prie chaque soir pour avoir les mêmes yeux bleus.
Une jeune fille noire qui rêve d'exister.
​​Thiaba Egutchi
Comments off