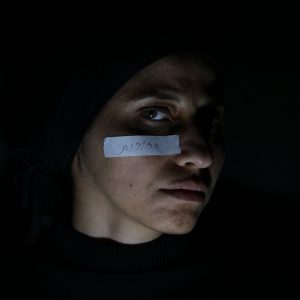 Palestinian poet Dareen Tatour was convicted by an Israeli court in Nazareth of "incitement to violence" for a poem she wrote. The prosecution demanded a long prison sentence and final sentencing was announced on Tuesday, July 31, 2018.
Dareen spent a total of THREE years under house arrest and in prison, between October 2015 – September 2018. She was released on September 21, 2018 on probation with the condition that she not publish any political art work.
On November 6, 2018 she will stand before the court once again, appealing against her verdict.
A group of artists and activists issued a call inviting musicians to contribute to a forthcoming digital compilation album in protest at Dareen's conviction, called Poem On Trial.
Each musician was invited to contribute a piece of work in any genre using, as their lyrical base, the text of the poem by Dareen. The project aims to undermine and expose the true basis of her conviction by repeating and distributing her 'illegal' poem via the medium of music and art. Some of these new creations are featured in the radio program.
Recorded, edited and produced by Meira Asher
Voiceover by Antye Greie
Featuring the voices of Dareen Tatour and Antye Greie
Sounds by
AGF / David Oppenheim / Dror Feiler / Anne-Line Drocourt / FeralMind (feat. Claudia Wegener) / Wild Anima (feat. Selma Zghidi) / Valerie Vivancos (feat. Bernard Clarke and Dinah Bird) / Rim Banna / Maruda (feat. Mounia R.) / Phill Will / Naseer Shamma / Köhn / Floy Krouchi / Meira Asher.
Image by Dareen Tatour
Poemontrial team are Meira Asher, Antye Greie, Liam Evans, Yoav Haifawi,
Dganit Elyakim and Smadar Yaaron.
Thank you Orna Akad, Ali Salem, Dr. Fuad Azam and Floy Krouchi.