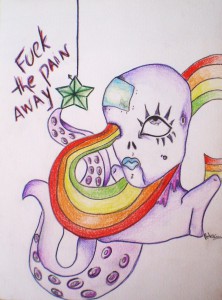 Robert Wyatt – Memories
Melanie – I really loved Harold
Catherine Graindorge – Fragile (fwb)
Philaretordre – Les rats quittent le navire (fwb)
Cat Power – I love you (me neither) (feat. Karen Olson)
Anna Karina – Jamais je ne t'ai dit que je t'aimerais toujours (fr)
Skye Edwards – Call me (Blondie cover)
Les Bicylettes Blanches – Hot Hot Hot !!! (The Cure cover)
Angels Die Hard – Angels across the Pacific
HINT – From room to room
Guns of Brixton – Rocket to Salem
HINT – Ionizer
Killawatt – 1625
Peaches – Fuck The Pain Away !
Je vous souhaite à toutes et tous des centaines de nuits magiques,
pour que vos voeux s'accomplissent et que vos jeux vous aident à grandir !